Every now and then a new silly service pops up that helps people measure the length of their penis and compare it to others without being ... you know ... very ew about it.
'cause nobody wants that
nope.
So one of these days, doesn't really matter when, but I found out about it today, a new service called MyTechne popped up out of the blue ... and oh great, Zemanta just flashed me with a bunch of dicks in the recommendations media gallery, thanks guise ...
The point is that you sign up and create a collection of all the different programming languages you've ever used and when you used them and so on and so forth. Marvelous!
Now the age long debate of who has the biggest coding schlong over at the pub can get fucking substantiated. Why try to remember everything when you're drunk out of your mind? Just pull out an internet and SHOW them.
As Hugh Laurie would say in Blackadder's fourth series: Hoorah!!
Anyway, here's my coding schlong if anyone's interested. For the love of god DO show me yours in the comments alright. Cheers.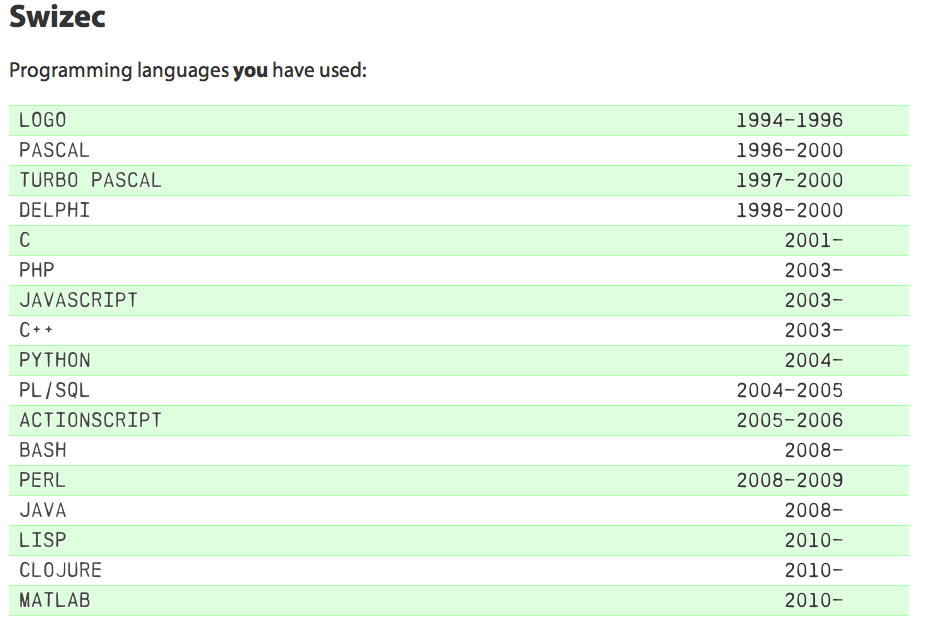 Published on April 7th, 2010 in Uncategorized
---
Here's how it works 👇
Leave your email and I'll send you thoughtfully written emails every week about React, JavaScript, and your career. Lessons learned over 20 years in the industry working with companies ranging from tiny startups to Fortune5 behemoths.
And get thoughtful letters 💌 on mindsets, tactics, and technical skills for your career. Real lessons from building production software. No bullshit.
"Man, love your simple writing! Yours is the only newsletter I open and only blog that I give a fuck to read & scroll till the end. And wow always take away lessons with me. Inspiring! And very relatable. 👌"
Have a burning question that you think I can answer? I don't have all of the answers, but I have some! Hit me up on twitter or book a 30min ama for in-depth help.
Ready to Stop copy pasting D3 examples and create data visualizations of your own?  Learn how to build scalable dataviz components your whole team can understand with React for Data Visualization
Curious about Serverless and the modern backend? Check out Serverless Handbook, modern backend for the frontend engineer.
Ready to learn how it all fits together and build a modern webapp from scratch? Learn how to launch a webapp and make your first 💰 on the side with ServerlessReact.Dev
Want to brush up on your modern JavaScript syntax? Check out my interactive cheatsheet: es6cheatsheet.com
By the way, just in case no one has told you it yet today: I love and appreciate you for who you are ❤️